Description
ROBUST Survival Band makes your Apple Watch an essential piece of outdoor equipment with an extra-strong nylon-woven paracord.
Specifications
Superior quality 550

 paracord
Stainless steel hardware

Compatible with Series 1 - 8, Ultra & SE (38/40/41mm & 42/44/45mm cases) Apple Watches
Package includes 1 x Survival band (no watch included)
NOTE: This band has a silver buckle and connectors. Please click here for the all-black edition.
Size guide
‣ Size L fits 7" to 8.5" wrists 
‣ Size M fits 6" to 7.5" wrists
The bands have three pin positions for fine adjustment.
Please also take into account your watch size. The sizing is the most accurate on 44mm and 45mm watches. If you have a smaller (38mm or 40mm) watch, go slightly larger.
Setup

All of our watch bands are easy to install in seconds, but some might need a little push to click it in place. This is done to minimize any rattle and to guarantee a snug fit to your watch. If the band doesn't lock in right away, gently press the connector toward the watch until you hear a click. 

Putting the band on:
The clasp might feel tricky the first time, but we guarantee it's easy after you get the hang of it. Make sure to insert the band to the watch so that the bolt is facing your palm. Aligning is easy when you support the watch against a table of your thigh etc. 
Your Apple Watch just got more useful
Even after running out of battery
Robust Survival Band makes your Apple Watch an essential piece of outdoor equipment with an extra-strong nylon-woven paracord.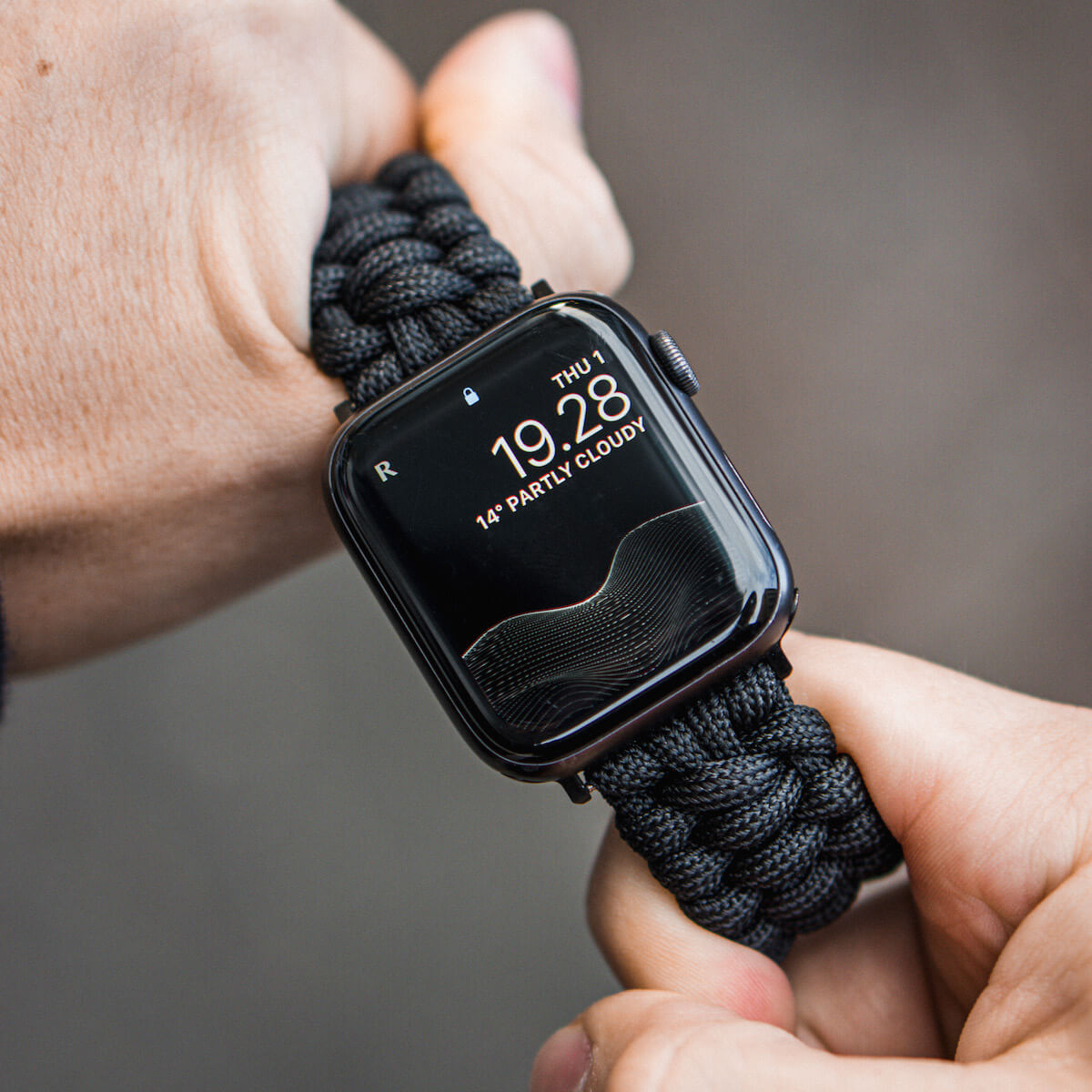 6ft of Type III (550lbs) Paracord
Band with a purpose
550 Paracord bracelets are one of the most famous survival accessories used by professionals and enthusiasts around the globe. Robust Survival Band can be unwoven in an emergency situation and used to make a DIY shelters or to repair damaged equipment among countless other emergency uses.
COMFORTABLE
The tight trilobite woven cord will form in the shape of your wrist and become one of the most comfortable straps you've ever had.
RUGGED
Get the rugged look your Apple Watch Ultra craves. Complimets and looks guaranteed.
DURABLE
We build our products to last. Hand made out of high-quality materials.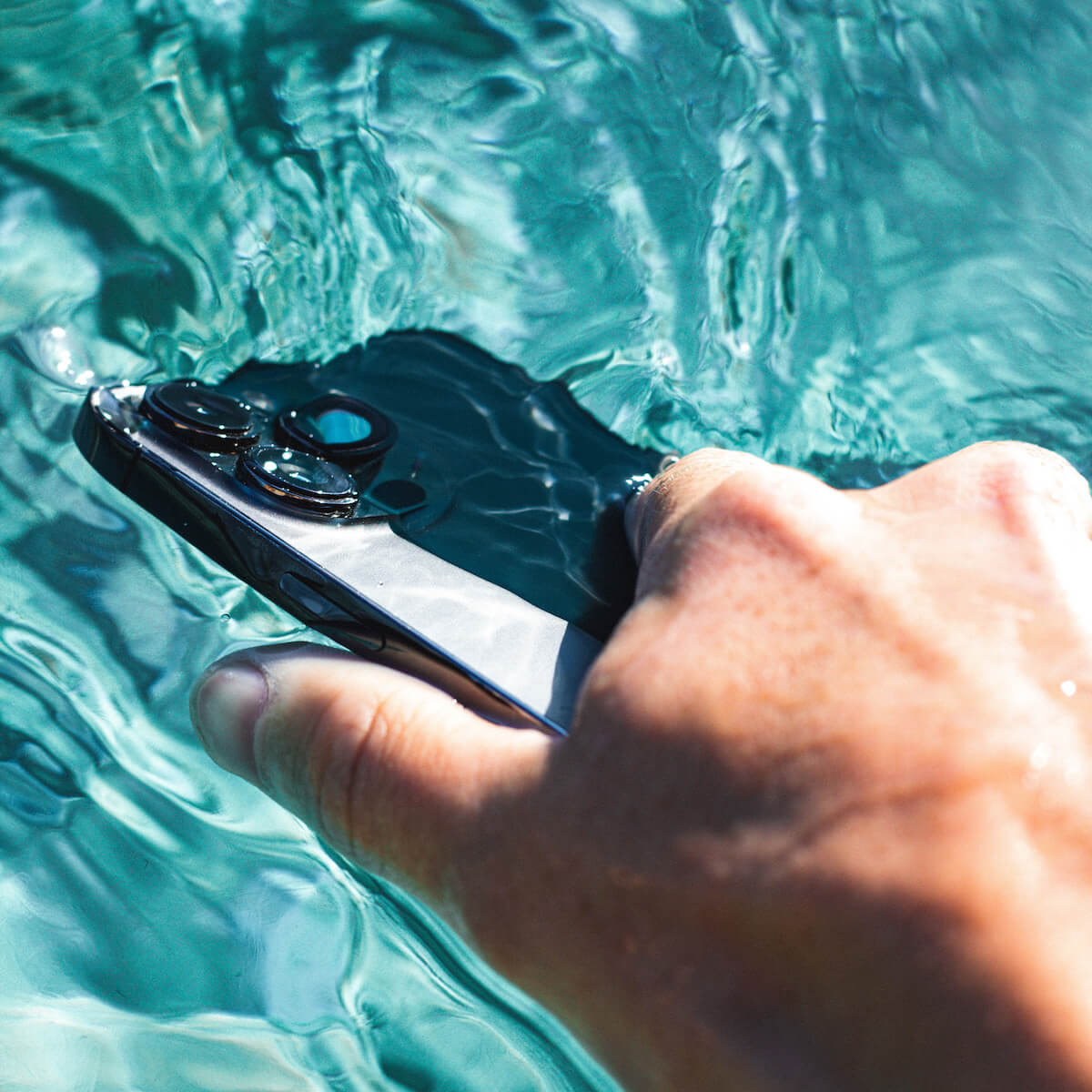 WATER RESISTANT
Paracord dries fast and isn't afraid to get wet. Wear it out on the sea or sink it in mud – simply rinse the salt and dirt off with clean water.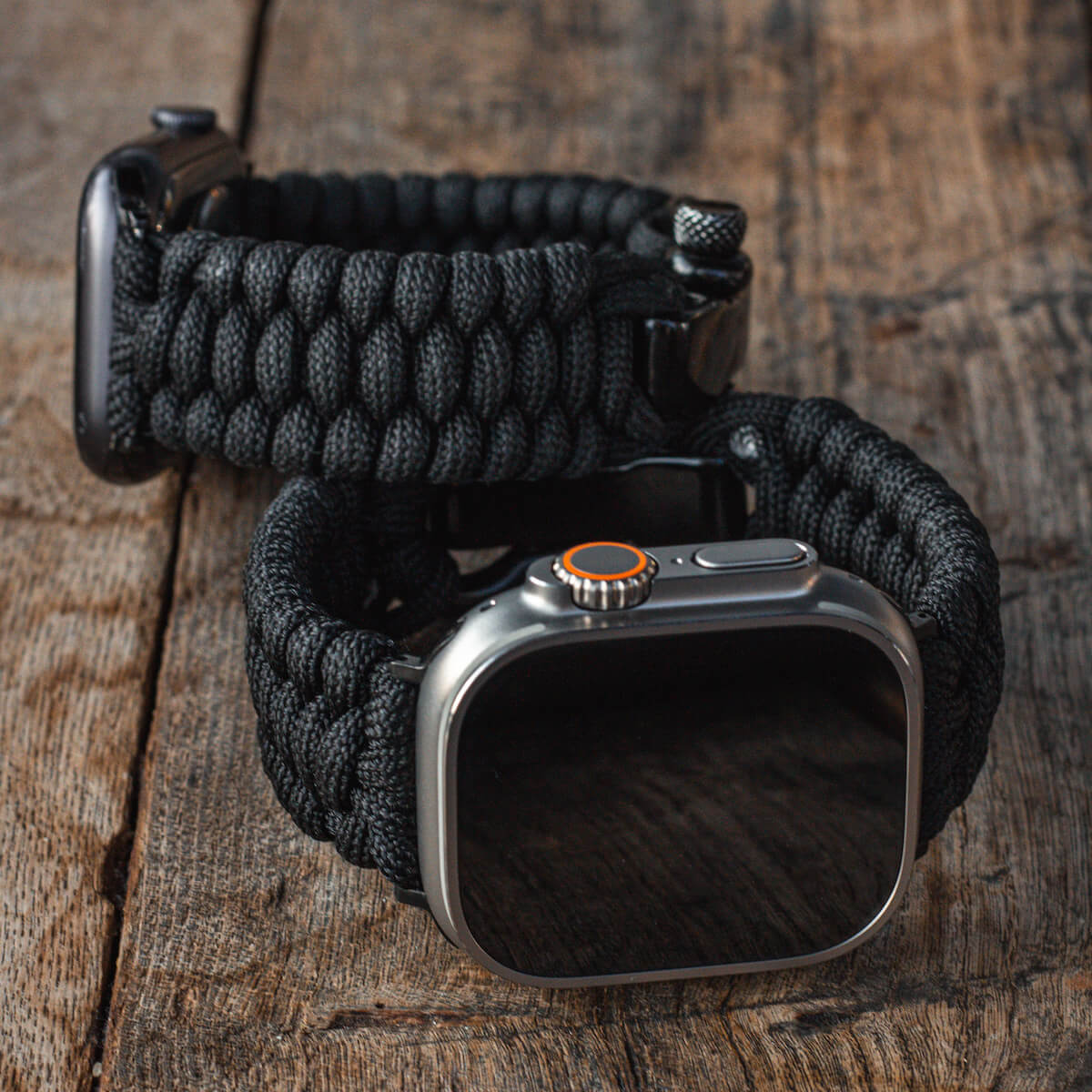 FOR FRIENDS AND FAMILY
A PERFECT GIFT
Wear matching watchbands or get creative mixing different colors! Now is a perfect time to get meaningful gifts for anyone who loves their Apple Watch.
Take advantage of our buy 3, save 15% deal and get yours today.
Yes it does. All our 44mm/45mm/49mm bands are fully compatible with Apple Watch Ultra. Silver hardware is an excellent match with the titanium case.
Yes! We have 20mm and 22mm quick release bands that fit most watches out there. Check the compatibility and options here.
Our watch bands have approximately 6ft of 550 paracord depending on the size you choose.
It's easy and done in seconds, although it can feel tricky for the first couple times. Make sure you have the band on the right way and you'll do it in seconds! Here's a short video to demonstrate.
Yes we do! Our current delivery time to UK is 4-6 business days and 5-12 days to Europe depending on your location. Please read our shipping policy for more information.
Survival Band is adjusted by 3 pin positions.
‣ 42/44/45mm fits 7" to 8.5" wrists 
‣ 38/40/41mm fits 6" to 7.5" wrists
⭐️⭐️⭐️⭐️⭐️ – I got this for my 44mm Apple Watch and I have zero complaints about this strap. It looks super chunky and it's super original I get compliments on it all the time. In these trying times I like knowing I have something that could save me in a pinch while looking DAF in the process. Recommended!!
⭐️⭐️⭐️⭐️⭐️ – It's a really nice well made strap, it's exactly the same as the pictures on the website and a joy to wear.
⭐️⭐️⭐️⭐️⭐️ – The band is amazing. Fantastic quality. The band becomes more playable as it is worn, Dries super fast after getting wet and a secure clip on the band that will not let it come off you wrist. I have multiple colors for different situations. Board room vs weight room vs casual day out with the family. I highly recommend the versatile watch band.
⭐️⭐️⭐️⭐️⭐️ – Had an issue at first getting it however, the company made it right and jumped through hoops to make sure I was happy. Awesome customer service and product..thank you!!!!
⭐️⭐️⭐️⭐️⭐️ – This strap is amazing. I absolutely love it even though it's a little bit difficult to get on at first but it's well worth it. Get it